Robust pressure equalisation elements for enclosures: ideal venting characteristics like an outdoor jacket
Condensation forms in well-sealed enclosures if pressure differences caused by temperature fluctuations are not equalised. Are you looking for a way to protect your system's electronic components not only from condensation – a potential cause of short circuits – but also from pressure, dust and corrosion?
The solution: Pressure equalisation elements (DAE) manufactured by PFLITSCH in stainless steel, brass or polyamide with an ePTFE diaphragm. They prevent water ingress in the same way as a high-quality outdoor jacket, enabling continuous pressure equalisation. Constant air circulation is an effective way to avoid condensation in enclosures. It simultaneously protects the enclosure seal against overload by ensuring that the defined leakage limit is never exceeded.
Catalogue Cable Gland – 13 Pressure Equalisation Elements
pdf
1.6 MB
Your advantages with PFLITSCH pressure equalisation elements:
Security of investment: High protection ratings guard sensitive electronic components against damage – from the polar regions to the deserts and from food processing to heavy industry.

Exact fit for your challenges and your design requirements: Brass, stainless steel or polyamide.

Flexible use: Uniform temperature range, hydrophobic and oleophobic diaphragm, many different variants, UV-resistant, short or long connection thread, also Ex e approved

Competitive in the global market: Variants with UL approval
Pressure equalisation elements for adverse conditions
Sensitive electronic components have to be reliably protected in the event of severe frost, extreme heat or aggressive production and cleaning conditions. That's why we designed our pressure equalisation elements with the maximum protective effect in mind. All PFLITSCH pressure equalisation elements are suitable for temperatures from –40 °C to +105 °C and have IP 66, IP 67, IP 68 and IP 69 certifications for protection against dust, dirt and water ingress. Depending on which diaphragm you choose, 16 (standard level, SL), 100 to 130 (UL) or 150 (high level, HL) litres of air per hour can escape from a single pressure equalisation element with an M12 thread – also Ex e approved.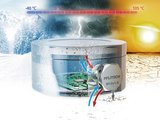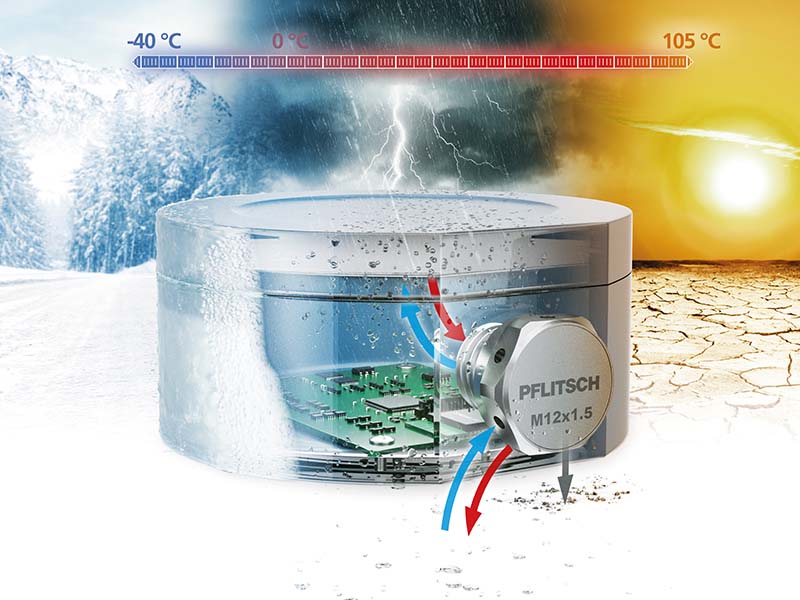 Condensate drainage via drain connections
Condensation may occasionally form in the enclosure due to the weather and if there is a low dew point, the water will no longer be able to evaporate but will instead flow to the bottom of the enclosure, possibly resulting in damage. A single PFLITSCH drain connection suffices: one size M20 connection can drain off more than 20 litres of condensate per hour in a controlled manner.
Pressure equalisation elements for mechanical and plant engineering worldwide
Are you looking to sell your machines and plant successfully in North America? If so, then you probably have your sights set on the UL Listed label. The good news: PFLITSCH can offer you pressure equalisation elements with the UL Recognized Component label. What's more, all our pressure equalisation elements are suitable for on-site installation because they bear both the CE mark and the UL Listed label.
You're also interested in the multitude of possibilities offered by our cable trunking solutions? Or are you looking for a concrete solution to a specific cable laying project? The Cable Trunking section provides an overview of all of our models and highlights their specific advantages and benefits.

Cable routing
Are you looking for a comprehensive overview of PFLITSCH's products and services? You can find the latest PFLITSCH catalogues and brochures in the Downloads section (PDF files).
You have questions about a product, would like to make an appointment for a one-to-one consultation or would like to experience our products live? Get in touch! We look forward to hearing from you.

Contact