PFLITSCH hose solutions –
cable protection and sealing that go hand in hand
In order to lead cables safely into an enclosure or control cabinet, they are often protected from damage and external influences using protective hoses. The cables should also not suffer damage at the point of entry into the enclosure or cabinet. To this end, PFLITSCH offers hose glands and hose cable glands that provide the necessary cable protection. For smooth, thin-walled and corrugated or stabilised hoses, the UNI Dicht range delivers different components and solutions.
In addition to secure routing of the cable as far as the entry point, it is also necessary to protect the interior of the enclosure from the ingress of dust and moisture. The UNI Dicht system includes the hose cable glands required to do this. Apart from protecting the cable termination, these glands maintain up to IP 68 (10 bar) tightness with the help of the sealing insert and ensure a high degree of strain relief.
With the hose glands from the UNI Dicht system, cables protected by hoses are fed to enclosures or control cabinets. This ensures that the cables reach the enclosure or control cabinet without being damaged. These gland variants do not have sealing inserts.
The hose cable glands and hose glands are available for different hose variants: from steel-braided hoses to UL hoses and smooth hoses – the PFLITSCH range has the right solution for you.
Besides the modular system, we also offer customised hose fittings.
With so many options available, it's not always easy to choose the right hose and matching hose cable glands or hose glands. To make things easier for you, we have put together a number of coordinated combinations for typical industry applications that work very well together.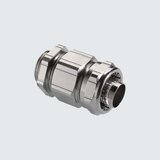 Material: Brass, nickel-plated
Size: M16 to M40, Pg 7 to Pg 29
Type of protection: IP 68 up to 10 bar (to the cable)
Sealing insert: TPE, TPE-V, LSR
Temperature range: –40 °C/+130 °C, –40 °C/+135 °C, –60 °C/+200 °C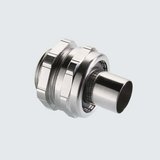 Material: Brass, nickel-plated
Size: M12 to M50, Pg 7 to Pg 29
Type of protection: IP 54
Spiral tube with steel braiding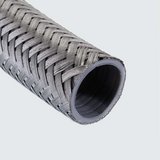 Material: PVC/Buna, galvanised steel
Size: 9.0 mm to 48.0 mm
Temperature range: –20 °C/+70 °C
Load capacity: with slightly corrugated inner wall and steel braiding on the outside for heavy mechanical loads
Industry usage and properties
Mechanical engineering: yes
Robotics: no
Electrical: yes
Rail: no
Automotive: yes
Maritime: no
Flexibility: 3/6
Fatigue/flexural fatigue strength: 2/6
Pressure/tread resistance: 4/6
Chem. resistance: 3/6
Weather resistance: 3/6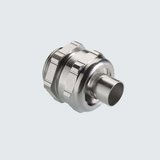 Material: Brass, nickel-plated
Size: M20 to M50, Pg 11 to Pg 36
Type of protection: IP 66
Sealing insert: TPE, TPE-V
Temperature range: –40 °C/+130 °C, –40 °C/+135 °C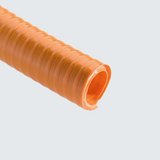 Material: polyurethane, double-walled (with slightly corrugated inner and outer wall)
Size: 10.0 mm to 40.0 mm
Temperature range: –5 °C/+60 °C
Load capacity:dimensionally stable with hard PVC spring coil (no buckling), UV and oil resistant
Industry usage and properties
Mechanical engineering: yes
Robotics: no
Electrical: yes
Rail: no
Automotive: no
Maritime: no
Flexibility: 3/6
Fatigue/flexural fatigue strength: 3/6
Pressure/tread resistance: 2/6
Chem. resistance: 3/6
Weather resistance: 3/6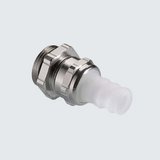 Material: Brass, nickel-plated, PVDF transparent
Size: M16 to M50, Pg 9 to Pg 36
Type of protection: IP 68 up to 10 bar (to the cable)
Sealing insert: TPE, TPE-V, LSR
Temperature range: –40 °C/+130 °C, –40 °C/+135 °C, -40°C/+150°C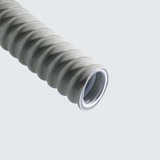 Material: PVC/spring steel, spiral pitch
Temperature range: –20 °C/+80 °C
Size: 9.0 mm to 35.0 mm
Industry usage and properties
Mechanical engineering: yes
Robotics: no
Electrical: yes
Rail: no
Automotive: yes
Maritime: no
Flexibility: 6/6
Fatigue/flexural fatigue strength: 4/6
Pressure/tread resistance: 5/6
Chem. resistance: 5/6
Weather resistance: 4/6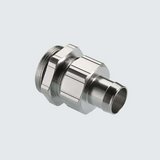 Material: Brass, nickel-plated
Size: M12 to M50, Pg 7 to Pg 36
Type of protection: IP 68 up to 10 bar (to the cable)
Sealing insert: TPE, TPE-V, LSR
Temperature range: –40 °C/+130 °C, –40 °C/+135 °C, –60 °C/+200 °C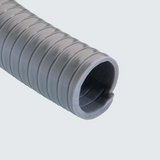 Material: PVC/Buna (with slightly corrugated inner and outer wall)
Size: 9.0 mm to 50.0 mm
Temperature range: –20 °C/+70°C
Load capacity: medium mechanical load capacity
Industry usage and properties
Mechanical engineering: yes
Robotics: no
Electrical: yes
Rail: no
Automotive: yes
Maritime: no
Flexibility: 6/6
Fatigue/flexural fatigue strength: 4/6
Pressure/tread resistance: 5/6
Chem. resistance: 5/6
Weather resistance: 4/6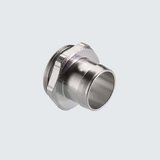 Material: Brass, nickel-plated
Size: M12 to M63, Pg 7 to Pg 48
Type of protection: IP 68 up to 10 bar (to the cable)