PFLITSCH Hygienic Design solutions –
a comprehensive portfolio for safe processes
Hygiene is increasingly being seen as an absolute top priority in the food and pharmaceutical industries. This explains why the manufacturing process and production facilities are the subject of ever greater demands in this regard. As a pioneer in the field of Hygienic Design, we pursue a holistic approach. The result is a smart system of coordinated cable entry, cable routing and cable protection solutions that meets the standards laid down for hygienic production plants. This system enables you to meet the future challenges in respect of hygiene and comply with the highest standards.
In a word, Hygienic Design describes the easy-to-clean design of parts, components and production facilities. In hygiene-critical production environments, the prevention of microbial and particulate contamination of products is a key requirement. Geometric equipment design and the choice of suitable materials have a decisive influence on the suitability for clean production.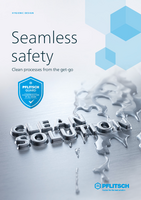 Competence brochure Hygienic Design
pdf
3.1 MB
The advantages of our Hygienic Design solutions
Comprehensive solutions for seamless safety across all production areas
Our pioneering solutions enable you to meet tomorrow's requirements today
Easy assembly, simple time- and cost-saving installation
Meet the highest requirements for tightness, strain relief and durability
Fit harmoniously and seamlessly into typical food or pharmaceutical production environments
Thanks to our proven development expertise, we can also create customised solutions for you
Our products in food production
The Wire-tray Trunking in practical application: Rothaus brewery
The Badische Staatsbrauerei Rothaus AG, producer of the well-known Tannenzäpfle beer, needed to route cables for a new bottling plant. The requirements: hygienic, safe and clear cable routing. The brewery ultimately opted for Wire-tray Trunking from PFLITSCH, not least because of its stability and corrosion resistance. But the customer was also convinced by the installation enabling an individual cable layout. For maximum hygiene, in some process areas parts of the Wire-tray Trunking were even welded with the covers. The Rothaus brewery has relied on our Wire-tray Trunking for 10 years already and has even obligated its suppliers to install it.
Certifications – safety signed, sealed, delivered
We set high standards for our solutions. For example, our blueglobe CLEAN Plus is the world's first cable gland to be developed according to Hygienic Design principles and certified by the EHEDG (European Engineering & Design Group). Like many of the products in our range, it is FDA-compliant and has proven its outstanding hygienic design in numerous tests. Resistance to cleaning agents and disinfectants was tested by the Ecolab laboratory and the blueglobe CLEAN Plus passed the material resistance test.
PFLITSCH products are characterised by a high level of innovation and sophisticated features and this has been confirmed by the renowned Fraunhofer Institute. The blueglobe CLEAN Plus cable gland made of polyamide won 3rd place in the REINER! 2021 clean manufacturing award. As the first all-plastic Hygienic Design cable gland to receive EHEDG certification, it meets the strict hygienic and cleaning requirements of the food and pharmaceutical industries.