PFLITSCH's component assembly service:
ready-to-install cable trunking systems delivered on time at a fixed price
A smooth CAD-CAM process offers cost savings of between 20% and 50% of the total costs
Do you use cable trunking in your machines and plants and are you wondering how to plan and produce it as efficiently as possible? PFLITSCH's component assembly service is the answer. Our in-house specialists use computer-aided manufacturing (CAM) based on 3D CAD planning data to manufacture and document components with high precision in a very short space of time – including assembly and delivery to your company at a fixed price on a date of your choice. On request, we can even offer you a full service from consultation to the final installation.
In this way, you relieve your teams of tasks that we can very probably perform faster, more routinely and more cost-effectively thanks to our many years of experience. At the same time we can speed up your production and assembly times by working with you on a just-in-time basis. Planning reliability and low costs, what more could you want?
Catalogue Cable Trunking – 3 Component Assemblies
pdf
7.8 MB
Plan, assemble, install – and save up to 20%
Practical examples show a total cost saving potential of around 20% for small installations and large projects alike, for individual pieces and series-produced assemblies. And the time savings at your company can be even greater. Imagine saving 50 hours on a single project and the value your teams could add to your core business during this time – assuming you have sufficient skilled workers at all right now.
Once a cable trunking configuration has been created, we store it as a firm item and it can then be ordered at the touch of a button. If your requirements change, the configuration can be modified. You can use our easyRoute 3D CAD software to plan and modify your trunking.
The advantages of our component assembly service
Ready-to-install component assemblies with delivery times and fixed prices you can rely on
Transparent, low overall costs – savings of between 20% and 50% are possible
Relieve your employees of routine tasks – increase your productivity
No need to design, build and assemble the trunking yourself – save your resources
Production, delivery and assembly from one source – optimised production planning at your company
Integration of the drawing into your CAD system including perfect documentation
The assembly can be reproduced at the touch of a button – very simple ordering
Production including all cut-outs, drilling holes, separators and covers
Incorporation of further PFLITSCH components, fastenings, special sheet metal work and third-party components
The colour of your choice
From the parts list to the ready-to-install cable trunking system
If the trunking layout is configured using the easyRoute software, the program automatically generates the parts lists and ordering lists as well as a quotation. We use the CAD data to manufacture the trunking components including all cut-outs, drilling holes, separators, covers and special designs. The ready-to-install component assemblies are pre-assembled and can be installed in your machines and plants easily and safely. Needless to say, the service includes pre-assembly of cable glands and hoses as well as the incorporation of third-party components. We deliver the cable trunking assemblies as scheduled – also straight to your production line – separately packaged on Euro-pallets or sorted in cardboard boxes. The assemblies are numbered and provided with extra labels on request to facilitate the fitter's work.
Your component assembly service project – the process
Technical advice on-site at your premises
Planning
Pre-assembly
Delivery and on request assembly
Technical advice on-site at your premises
Plants and machinery consist of a large number of components and modules, enclosures and control cabinets that need to be securely and clearly connected with cables. The Industrial-Trunking and PIK-Trunking closed cable trunking systems from PFLITSCH and the open Wire-tray Trunking provide the appropriate solution for every requirement, thanks to the extensive modular system and wide range of variants available. We offer expert advice on-site to realise the best possible and most economical trunking routing for your specific scenario. Together with designers, developers, fitters and electrical engineers, our experts will work out the perfect trunking routing for the volume of cables concerned – through and around machines. This also takes into account, for example, the separate routing of data, control and power cables as well as lines for compressed air or other media.
The choice of materials and the configuration of the cable trunking – in line with customer requirements and operating conditions – are considered in the preliminary planning, as is the realisation of special components, e.g. for connecting the trunking to a control cabinet in places where space is at a premium.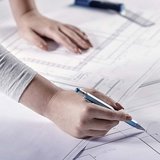 Drawing of the required cable routing
The actual planning of the cable trunking starts either by measuring the conditions on-site or by using available drawings. When measurements have been taken, the first step is for you or our experienced PFLITSCH consultant to prepare a sketch. Following your approval, this preliminary design is used as the basis for the subsequent detailed planning. Of course, existing drawings or existing 3D files can also be used for this.
Technical design at PFLITSCH
In our technical office, the specifications from the planning sketch are examined and further optimised in consultation with you. All specifications are checked for plausibility in order to achieve the best results in the manufacture, assembly and installation of the trunking.
Transfer to the easyRoute planning tool
In the PFLITSCH easyRoute planning tool, the system components of the Industrial-, PIK- and Wire-tray Trunking are stored in an intelligent database. When the detailed planning has been approved, CAD is used to assemble the required trunking components three-dimensionally to create the desired layout. Ideally, we can access your CAD or BIM data. You can also perform this step yourself, as we place the easyRoute software including the component library at your disposal.
Drawing data for transfer to your CAD system
A system file is exported in 2D or 3D from the easyRoute data, which can be easily imported into the CAD system you use. This allows you to embed the trunking layout in your machine environment, optimise it, check for collisions and complete your machine documentation. The CAD data generated forms the basis for our quotation, your approval and order and the parts lists as well as ensuring optimum production planning at PFLITSCH.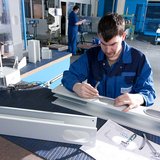 Production of your component assemblies
Using state-of-the-art CAM-based machinery, PFLITSCH manufactures your cable trunking components very efficiently to a high degree of dimensional accuracy and an exact fit, including all pre-punched cut-outs, surface coatings, fastening points and special requests. An experienced team pre-assembles the individual parts to create ready-to-install component assemblies in a consistently high quality. On request, edge protection, separators and other parts such as cable glands and components you have provided are pre-installed at this stage.
Final inspection
When the individual cable trunking components are ready, the final inspection is performed, with precise consideration of your specifications. During this inspection, all relevant dimensions of the pre-assembled cable trunking are checked and the correct labelling of all components is verified. This is how PFLITSCH ensures that the component assemblies can be perfectly integrated into your machine environment.
Pre-assembled units ready for transport
The inspected cable trunking components are pre-assembled to create easy-to-handle component assemblies that fit inside standard transport containers and boxes and onto standard commercial pallets. In this way, PFLITSCH makes the logistics, storage and requirements planning at your company as simple as possible.
Pre-assemblies are packaged
The individual parts of the trunking assemblies are securely packaged, numbered and delivered as scheduled – together with comprehensive documentation consisting of a parts list and a technical drawing. The complete shipment of all necessary parts also includes the connectors and fastenings inside the cable trunking system.
Delivery and installation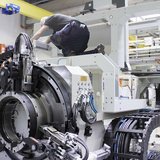 Delivery to your company
The cable trunking component assemblies are dispatched as scheduled from the PFLITSCH plant in Hückeswagen to your installation site. This just-in-time service allows you to optimally plan your throughput times, make effective use of human resources and minimise your warehouse and logistics costs.
On-site installation
Our experienced PFLITSCH staff ensure maximum planning reliability and cost transparency combined with top installation quality – on-site in your production, industrial building or assembly hall. You can of course have the cable trunking installed by your own staff. All cable trunking components are marked according to their installation position and assembly sequence, making installation of the component assemblies safe, quick and easy.
Have you already completed planning of your cable laying project and thought of the potential solutions for feeding in the cables? Our Cable Glands section offers you a source of valuable inspiration and makes choosing the right solutions as easy as can be – regardless of whether we're talking high-quality, standard cable glands or sophisticated special solutions.

Cable gland
Are you looking for a comprehensive overview of PFLITSCH's products and services? You can find the latest PFLITSCH catalogues and brochures in the Downloads section (PDF files).
You have questions about a product, would like to make an appointment for a one-to-one consultation or would like to experience our products live? Get in touch! We look forward to hearing from you.

Contact