PFLITSCH EMC solutions –
so that electromobility gets off to a great and safe start.
Safe wiring for reliable high-voltage vehicle electrical systems
The development of commercial vehicles with alternative drives is placing ever-increasing demands on safe and reliable high-voltage vehicle electrical systems. In particular the high interference potential of the electrical drive component means vehicle components must be EMC-compliant. At the same time, the components of the electric drivetrain, such as the inverter, induce strong currents in the cable shield that can bring their current-carrying capacity to its limits.
For this purpose, PFLITSCH offers high-quality EMC cable glands with the unique TRI-spring design, which have been specially developed to meet the needs of the sector and are impressive in every respect thanks to their outstanding properties.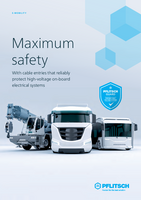 Competence brochure Electromobility
pdf
2.5 MB
PFLITSCH ensures strong connections – in every respect
As a cable routing expert with a holistic approach, we have anticipated the typical requirements for each industry and sector from an early stage and then developed specific solutions that are precisely tailored to these needs. In the process, we have from the very start been one of the true drivers of development in many areas, such as EMC and for the railway and food industries – and continue to be.
We have now created custom-fit EMC solutions especially for the automotive industry that meet the industry's special requirements for safe high-voltage vehicle electrical systems. This is further proof of our expertise and innovative strength, which make us the ideal partner for strong connections in e-mobility.
The advantages of our EMC solutions
Safe EMC cable glands with very high current-carrying capacity and excellent attenuation values
High resistance to vibration and mechanical stresses
Silicone sealing insert with very good resistance to environmental influences and the like
Cable gland design optimised for the various single- and multiple-core HV cable cross-sections
Large sealing and screening ranges can be covered with just one cable gland size

Simple, quick and dependable assembly for significant time and cost savings
Electromobility – Maximum safety with PFLITSCH cable entries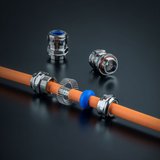 360° contact over a large area thanks to the triangular spring permits safe discharge of interference signals
Strong, durable contact, even when subject to vibration
Time and cost savings thanks to simple, fast and reliable installation, as well as uncomplicated maintenance
Silicone sealing insert protects against the adverse effects of chemicals in accordance with automotive standard LV 124 and against the frequent and sometimes extreme temperature changes
Large sealing and screening ranges can be covered by just one cable gland size
AE blueglobe D-TRI NM HTS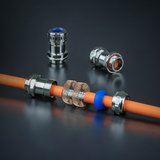 In addition to the properties of the AE blueglobe TRI HTS, the AE blueglobe D-TRI NM HTS with its two in-line, bronze TRI springs also offers the following advantages:
low-impedance discharge of shield currents greater than 100 A: The size M25 was tested with the following loads: constant 200 A for 1 hour and in intervals with peak values of 380 A for 15 minutes. The EMC contact via the TRI spring maintains its full function.
very high screening attenuation – even with high-frequency interference radiation up to 1 GHz
Pressure equalisation elements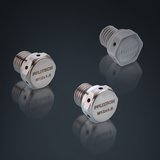 Continuous ventilation of your enclosures prevents malfunctions due to condensation
Suitability for potentially explosive atmospheres
Secure sealing of your application against moisture thanks to high IP 66, IP 68 and IP 69K protection
For each of your requirements the right variant, made of brass, stainless steel or polyamide (black, grey), and with two different airflow versions: standard level (SL), and high level (HL)