Industrial-Trunking from PFLITSCH –
the benchmark for safe, flexible and efficient cable routing
Individual layouts for large cable volumes
Industrial-Trunking from PFLITSCH is the first choice whenever large volumes of cables and lines need to be routed safely over long distances through production equipment and in, along and around machinery. Do you have a specific idea for a highly complex or very individual routing for your cables? Our Industrial-Trunking enables it to be easily realised. Thanks to a wide range of sizes and different accessory fittings, there are virtually no limits to the possibilities for routing your cables.
Catalogue Cable Trunking – 4 Industrial-Trunking
pdf
10.3 MB
Customised cable routing with perfect protection
Thanks to its high load-bearing capacity and robustness, the electrical trunking offers your cables and lines optimum protection against the influences and mechanical stresses in all kinds of different production environments. The sturdy construction allows you to reduce the number of fastening points for support-mounted or suspended systems – saving time, materials and greatly reducing costs. A further advantage: the Industrial-Trunking can be opened along its entire length for easy laying and removal of pre-assembled cables, eliminating the need to tediously thread through cables.
The advantages of the Industrial-Trunking at a glance
Safe routing of large cable volumes with individual trunking layouts
Cover variants for every application – also with hinges
Press-fitted, self-securing lock nuts for quick and easy assembly
Comprehensive edge protection, safe equipotential bonding, low-burr design
Extensive range of tools, machines and assembly accessories
Different shapes and sizes
The industrial cable trunking is available in 13 different cross-sections from 50 mm x 50 mm to 600 mm x 150 mm and a selection of different materials. 80 different accessory fittings are available for each size, plus variants for the cover lock fastener. The Industrial-Trunking system thus offers maximum flexibility in cable routing and the perfect solution for every application.
We manufacture the Industrial-Trunking in sheet steel, stainless steel and aluminium. In stainless steel, the cable trunking is ideally suited to demanding applications in industries such as the food industry, chemical and pharmaceutical production, offshore platforms and other sensitive areas. Needless to say, we can also offer you specific components and a paint finish in any RAL colour and surface finish to suit your application.
Installation – almost limitless possibilities for individual routing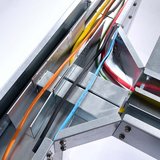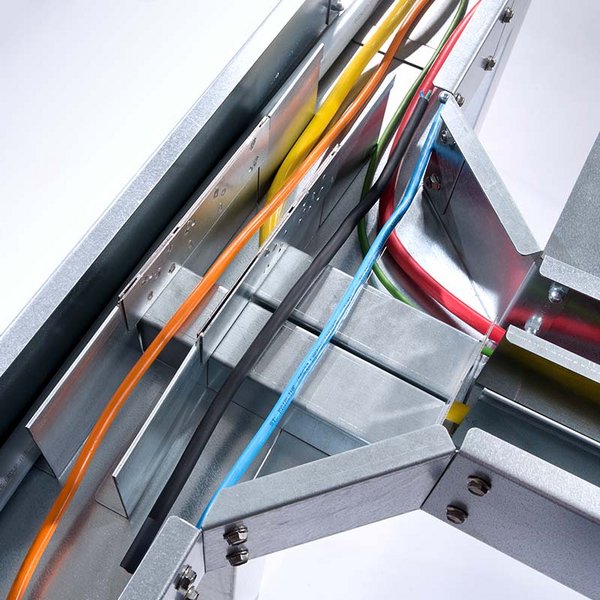 Clear and separate cable layouts
A wide range of components are available for clearly structured cable routing. For example, insertable or clinched separating walls are designed to route data and power cables and other lines safely and separately in different chambers within the cable trunking, thus ensuring EMC-compliant installation. Appropriately named "flyovers" carry cables on different levels at crossings and T connections. Telescopic components and adjustable elbow accessory fittings enable simple and reliable compensation of the dimensional deviations in a machine.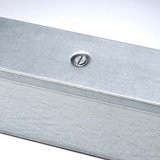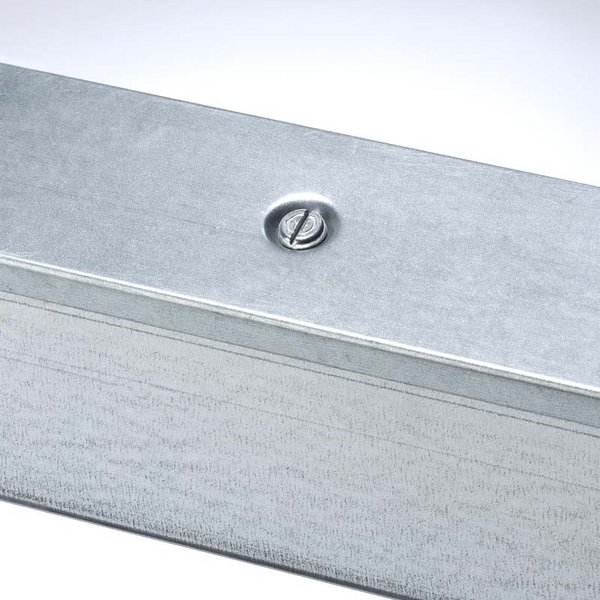 A special feature: the cover
Unlike conventional cable trays and cable racks, PFLITSCH cable trunking is available with removable or hinged covers. The standard cover has a non-detachable rotary fastener with a locking bolt that lies flush with the cover surface in a recess. In the food industry, hexagonal bars without a recess are used to minimise the possibilities for dirt and bacteria to collect. There are additional variants of the hinged covers with an external side toggle joint fastener and fastener with turn clip for tool-less opening.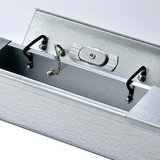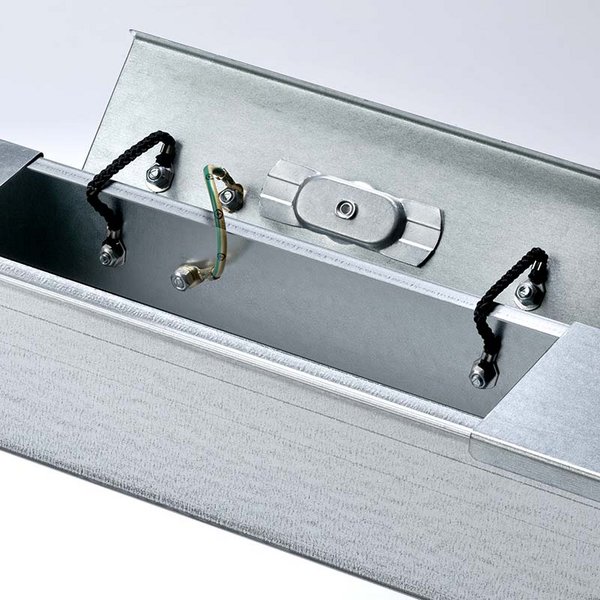 Safe equipotential bonding between cable trunking body and cover
Equipotential bonding between pieces of trunking and accessory fittings is achieved automatically when the elements are connected by screwing the pawl safety screws into the lock nuts – TÜV-tested and safe. Optionally, equipotential bonding between electrical trunking bodies and covers is achieved by means of an equipotential bonding strap and locking strap. Cartridge-fired pins are used for fastening.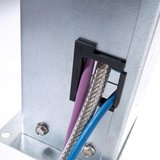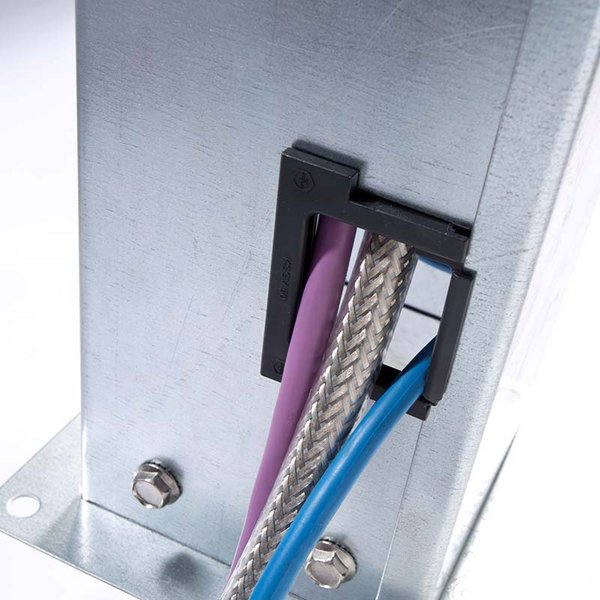 Low-burr finish with edge protection
We manufacture our industrial cable trunking in Germany to the highest quality standards. The longitudinal edges are deburred and all the corners rounded for effective protection against injury during fitting. Clever design features ensure comprehensive edge protection for the cables:
Preformed connection plates protect the cables from damage at the joints – even under strong vibrations.

Press-fitted, self-securing lock nuts protect the cables inside, reduce the amount of installation work and give the assembled trunking additional stability.

Non-detachable plastic components provide reliable edge protection at lateral cut-outs and trunking ends.
easyRoute – simple and individual planning and realisation of cable trunking
We have developed the intelligent planning software easyRoute to help you plan the individual routing of your Industrial-Trunking. It is available to customers via the PFLITSCH website. This also gives you access to our component library. Once the 3D planning has been completed, finished parts lists, order lists and informative documentation of the entire assembly can be generated with a simple click. On request, we are also pleased to manufacture ready-to-install cable trunking assemblies according to your drawings or CAD data.
Machines and tools for cutting Industrial-Trunking
To facilitate your own installation of industrial cable trunking, various machines and tools are available from PFLITSCH for machining and cutting trunking to length quickly and easily. Our new range of machines lets you work with ease to professional standards:
MultiCut: can be individually adapted by incorporating different cutting contours into one cutting plate. available with a manual or automatic drive.

MaxiCut: With optimised, durable cutting plates and a height-adjustable tabletop for maximum working convenience.
Our portfolio includes special tools such as release tools as well as suitable accessories for a variety of activities like releasing cable trunking or punching recesses. They enable this kind of work to be carried out much faster, more easily, more accurately and more safely than if a conventional saw or angle grinder is used.
Fastenings – a coordinated range
The installation conditions on machines, in plants and industrial buildings vary enormously. For the simple and safe installation of cable trunking systems in almost any environment, we have put together a range of high-quality fastenings that is constantly being expanded and is suitable for all PFLITSCH cable trunking.
The fastenings made of high-quality steel or stainless steel enable trunking to be mounted on floors, ceilings or walls. This eliminates the need for expensive systems you design yourself and minimises installation times. The high robustness of the tried-and-tested fastenings allows large support spacings, minimising installation times and costs.
Thanks to the different sizes and cross-sections available, the Industrial-Trunking is suitable for routing large cable volumes over long distances. A large number of accessory fittings are also available, enabling highly individual and complex layouts to be realised that are not possible with any other trunking. And finally, the Industrial-Trunking boasts a sturdy design and high-quality metals, making it ideal for use wherever particularly robust cable routing is essential.
Needless to say, you can also cut and install the Industrial-Trunking yourself. However, we recommend that you opt for professional tools rather than using the usual saws and angle grinders. This ensures simple, convenient, safe, time- and cost-saving work with precise results and eliminates the need for time-consuming reworking. You will find suitable machines and tools designed for the special requirements of PFLITSCH cable trunking here.
Current-carrying cables also produce magnetic fields, which are often the main cause of electromagnetic compatibility (EMC) problems in cable installations. For an EMC-compliant electrical installation, it is therefore important to keep differences in potential between the various parts of a cable trunking system as small as possible. In the Industrial-Trunking equipotential bonding takes place automatically between trunking sections and accessory fittings when the elements are screwed together. Equipotential bonding between cable trunking bodies and covers is achieved with the equipotential bonding strap and locking strap.