PIK-Trunking –
perfect for small volumes of cables and when space is at a premium
Maximum stability, minimum space requirements
PFLITSCH's PIK-Trunking is designed for routing just a few cables and is what you might call PFLITSCH Industrial-Trunking's little brother. It is also suitable whenever installation space is limited. With its thicker metal walls compared to conventional solutions and its creased side walls, PIK retains its shape very well under load.
Catalogue Cable Trunking – 7 PIK-Trunking
pdf
5.2 MB
Enclosed cable routing, easy opening
You can open the cover of our PIK-Trunking over its total length, making it easier to insert cables or modify installations. The cables no longer have to be pulled through the hard way and you are free to choose a smaller trunking cross section. The cover is simply clipped on – no screws or fasteners are needed.
10 cross-sections and numerous accessory fittings available
Ideal whenever installation space is limited
Compatible with Industrial-Trunking
Wide range of accessories
PIK-Trunking is made in Germany to a consistently high level of quality and dimensional accuracy and is available in four high-grade metal versions: zinc-plated steel, zinc-plated steel primed in RAL 7035, zinc-plated steel powder-coated in any RAL colour or V2A stainless steel. It can be supplied in 10 different cross sections from 15 mm x 15 mm to 200 mm x 60 mm.
PIK delivers on its promise – even when installed vertically
With its compact dimensions, PIK-Trunking is PFLITSCH's "smallest" cable trunking system. It is perfect for routing small numbers of cables safely or whenever only limited installation space is available on or around a machine. In short, it is the ideal solution for use in the most basic type of installation in systems and machines. Unlike ducted systems, PIK-Trunking can be opened over its total length, making it easier to insert cables, carry out maintenance or repair work or upgrade an installation. Precision manufacturing in combination with expertly fitted edge protection means that the covers remain securely in place even on vertical trunking or when subjected to vibration.
Comprehensive edge protection for cables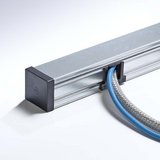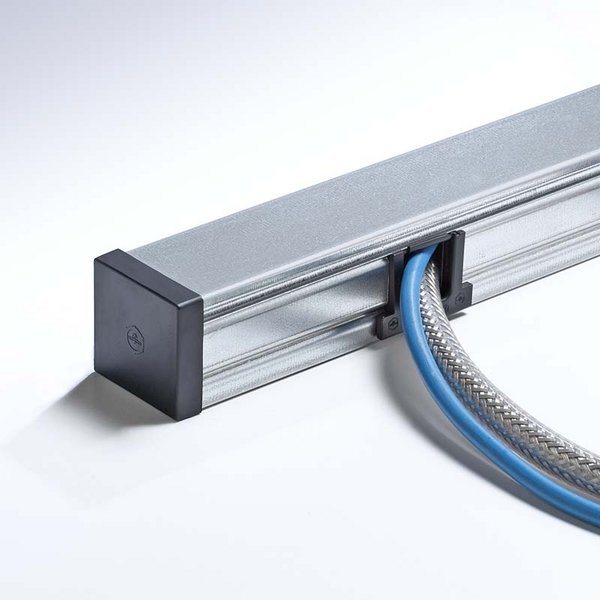 Captive end caps ensure an elegant termination of the trunking ends and provide reliable edge protection, thus preventing damage to the cables. High-quality edge protection accessory fittings perform the protective role at lateral cut-outs:
Open version (edge protection only)
Opening at the top, to allow pre-assembled cables to be laid in place
With a perforated plate, e.g. for fitting a cable gland to provide a seal and strain relief – with a blanking plate for closing off a cut-out which is not presently needed
Elbows, T connections and accessory fittings enable enclosed cable routing in all directions as well as around corners. The toothed connectors are either clamped or screwed to the cable trunking sections to create a reliable connection between the components and achieve effective equipotential bonding without any additional measures. Separators keep power and data cables apart in accordance with EMC requirements.
We also provide you with special retaining clips for our PIK-Trunking. These are manufactured from high-grade stainless spring steel and the trunking is simply clipped in. They ensure excellent retention force, provide reliable equipotential bonding and compensate for any irregularities in the installation surface.
To facilitate your own installation of PIK-Trunking, various machines and tools are available from PFLITSCH for machining and cutting trunking to length quickly and easily. Our new range of machines lets you work efficiently in a new dimension:
MiniCut: The ideal solution for mobile use – thanks to its compact design and practical carry handles. The manual drive guarantees easy work.

MultiCut: can be individually adapted by incorporating different cutting contours into one cutting plate. Available with a manual or automatic drive.

MaxiCut: With optimised, durable cutting plates and a height-adjustable tabletop for maximum working convenience.
Our portfolio includes special tools such as release tools as well as suitable accessories for a variety of activities like releasing cable trunking. They enable this kind of work to be carried out much faster, more easily, more accurately and more safely than if a conventional saw or angle grinder is used.
Made-to-measure fastenings
For the simple and safe installation of cable trunking systems in almost any environment, we have put together a range of high-quality fastenings that is constantly being expanded and is suitable for all PFLITSCH cable trunking. The system is made from high-grade steel or stainless steel and is designed for installation on the floor, ceiling or wall. It does away with the need for expensive DIY solutions and greatly reduces installation times. The high stability of our tried-and-tested fastenings allows wider support spacing, so that installation effort and expense are minimised.
Our robust PIK-Trunking has compact dimensions and is what you might call Industrial-Trunking's younger brother. It is intended for routing small numbers of cables or whenever only limited installation space is available, whereas Industrial-Trunking is designed for laying large numbers of cable over long distances.
The cover is simply clipped onto the body of a PIK-Trunking module. Its curved edges automatically snap into the longitudinal grooves at the top of the trunking body. You can lift off the cover again easily using a special lever which we offer as part of our tools range.