Wire-tray Trunking shears
Fast and precise cuts in next to no time
The rechargeable battery-powered shears cut away unwanted wires of the Wire-tray Trunking by making low-burr cuts – removing the wires simply, precisely and effortlessly. The 330°-rotatable tool head is easy to use, even on already installed cable trunking. The Wire-tray Trunking shears are fitted with an electrohydraulic drive and are ready for immediate use.

The Wire-tray Trunking shears have been designed for cutting
Wire-tray Trunking made of AISI 304L, AISI 316L or zinc-plated steel with a diameter of up to 6 mm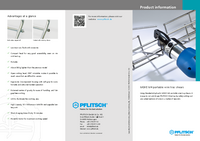 Product information Wire-tray Trunking shears
pdf
3.6 MB
Not sure if the Wire-tray Trunking shears are the right machine for you?
Low-burr and flush cut
Compact cutting head provides very good accessibility even in Mini Wire-tray Trunking
Can be used at several locations (mobile use)
Open cutting head, rotatable through 330°
Hydraulic shock absorber absorbs the kickback during cutting
Ergonomic, 2-component casing with Softgrip for comfortable and safe one-handed operation
LED for workspace lighting
Powerful 18 V lithium-ion rechargeable battery from MAKITA, short charging time of only 15 minutes
Powerful motor for maximum working speed
Practical, robust plastic case
Would you like to know why the Wire-tray Trunking shears are worthwhile?
Log in to myPFLITSCH and use our amortisation calculator to determine your individual savings potential.